El Poder Intimo
Electronic, 1993. Based on a series of paintings by Michel Galipeau.
These were 8 short pieces composed for an exposition of 8 paintings by Michel Galipeau.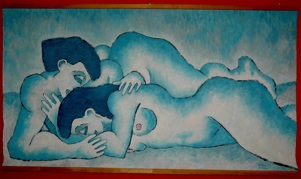 Vice Versa
For Octapad II, MIDI BASS and WX-11, 1992
The idea of this work is that MIDI instruments are playing sounds normally associated with other instruments. At the premiere in Oct 1992, the musicians were:
Jack Broumpton – playing "melody instrument" sounds on an Octapad
Peter Scherzinger – playing drum sounds on the WX-11 wind controller
Me – playing percussion sounds on a bass retrofitted with a MIDI converter
4 Aspects de Sarah
For sequencer, keys and saxophone, 1992. Live performance excerpts from Oct 1992 with Allan Walsh on sax.
Credits: composer / programmer / keys
Art of Noises
For M and Casio FZ – 10 Sampler 1992
Credits: programming, live performance of M the intelligent instrument playing samples of consonances and vowels as read by Dr. Douglas Webb.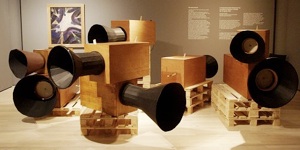 Luigi Russolo's Intonarumori
Rimes Enfantines
For sequencer and tenor 1992. Originally for recorder septet. Sung by Dr. Brad Richmond. Recorded live Oct 25th 1992.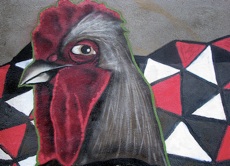 aMazing
for M and saxophone, 1992. Recorded live in 1992 with Jean-Yves Bégin on sax.
Credits: composer / programmer / M (intelligent instrument software)
Layers
For keyboard controller, Mirage, Esq1, FZ-10, TX81Z, Roland R8-M and MX-8 Patchbay 1992
This work is for solo keyboardist. The keyboard is set up so that several sounds have been layered on each key. How quickly or how hard the key is played determines the sound that will ensue. The work was premiered in Oct 1992 by Kathleen Solose.