Galipo
For string quartet, sax, voice and soundscapes, 2011. Premier April 10 2011 at the Théâtre du Nouvel-Ontario. Recorded live April 10th, 2011.
Silver Birch String Quartet
Patricia Cano – voice
Jean-Yves Bégin – sax
Texts by Michel Dallaire
Composition & soundscape: Dan Bédard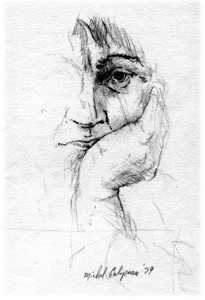 CAGE (version 2)
Cyberjazz group, 2001
Recorded live in concert March 2001
Jean-Yves Bégin – sax
Bill Stewart – el gtr
David Pichette – el violin
Véronique Dault – guest vocalist
Credits: composer / programmer / keyboards / M (intelligent instrument software)
En voie d'extinction
For choir and soundtrack 1993. National premier by the Vancouver Chamber Choir, November 2000.
These are the demo versions. with the choir part played on a bad sampled organ. Unfortunately the work was never recorded. The text for the work is a poem by Patrice Desbiens.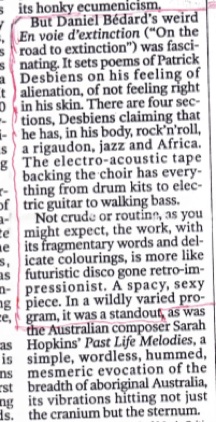 Lloyd Dikk's review of the Vancouver Chamber Choir's premiere of the work taken from the Vancouver Sun.
Hauntings
For voice and surround soundscape, 2000
The soundtrack for this work contains sounds form the past of loved ones who have passed on: Mom, Dad playing fiddle, Pépère, various uncles and aunts and cousins
This is the demo version , with the voice part played on a bad synth flute.
Unfortunately, the performance by Robert Hall in 2000 was not recorded.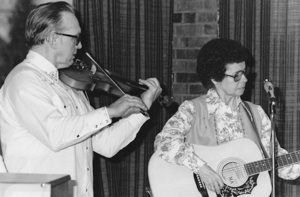 Mom & Dad circa 1978
Looking Back
For sackbut, tenor sax, piano and 4 track soundscape, 2000
Sudden?Metamorphosis
For classical guitar, delay and soundscape, 1995
Commissioned by Philip Candelaria who has given more than 50 performances of the work in Canada, the United States, South America and Jamaica. In July 1997, the work was presented at the Canadian embassy in Santiago, Chile, as part of the Canada Week celebrations.
These are the demo versions. with the guitar part played on a bad sampled guitar. Unfortunately the work was never recorded.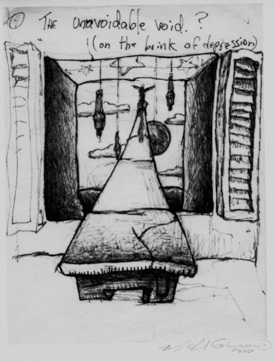 sketch by Michel Galipeau based on "III - The Unavoidable Void"
Desmond's Choice
Electro acoustic, 1995
Note: All the instruments you hear in this work were created by manipulating a recording of Desmond Maley's voice as he read his favorite poem. The sounds were then mapped to his favorite classical piano work.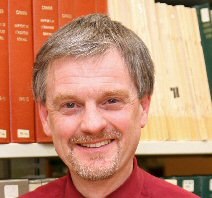 Desmond Maley
Cage (version 1)
Cyberjazz duo, 1995
Recorded live in 1995 with Jean-Yves Bégin on sax.
Credits: composer / programmer / keyboards / M (intelligent instrument software)
STUDy, STUdy, STudy, Study
For trombone and delay, 1994
Even More aMazing
For M and saxophone, 1994